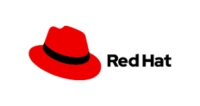 Red Hat is the world's leading provider of enterprise open source solutions, using a community-powered approach to deliver high-performing Linux, cloud, container, and Kubernetes technologies. Red Hat helps you standardize across environments, develop cloud-native applications, and integrate, automate, secure, and manage complex environments with award-winning support, training, and consulting services. They revolutionized the operating system with Red Hat® Enterprise Linux®. Now, they have a broad portfolio, including hybrid cloud infrastructure, middleware, agile integration, cloud-native application development, and management and automation solutions.
From Linux® training to DevOps certification to many other course offerings, Red Hat has a path that will fit your career and business goals. Trust Red Hat to help build skills and knowledge through flexible training options, real-world content and validation of skills through hands-on certification exams. Maximize your team's skills and the impact of your organization's technology investments with Red Hat® Training. Red Hat certifications span their entire technology portfolio, bringing confidence to individuals and organizations alike. Whether it's enterprise architecture certifications, core Linux® system administration skills, developer knowledge of specialized frameworks, or emerging technologies like containers and cloud, Red Hat knows the skills that are needed for success.
With our Managed Learning Services, we find and manage the best Red Hat courses and certifications for your organization. You receive training and certification directly from Red Hat through a single channel – one call, one person, one simplified solution.
Please contact us via the Get Started link below or call us at 888.682.9485 to speak to a Client Success Consultant.
*Information sourced from: www.redhat.com