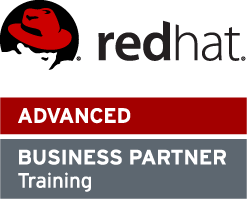 With more than 30 Linux and middleware courses, Red Hat delivers one of the most comprehensive curricula offered in today's marketplace. Unlike most vendors, Red Hat orients their training and certifications around real-world job roles and tasks.
Red Hat's certified instructors actively engage students in task-focused activities, lab-based knowledge checks and facilitative discussions. This best-of-breed contemporary teaching approach ensures maximum skills transfer and retention, which in turn enables increased productivity and a higher return on investment (ROI).
Training and certification from Red Hat ensures that your IS staff is ready for complete Red Hat Enterprise Linux deployments. They can help you identify who in your IS staff requires training and what level of training they need.
LearnSpectrum and Red Hat Global Learning Services consultants are available to help you assess your team's readiness for Red Hat based solutions, and then craft a custom corporate training plan to meet the needs of your group. Please call LearnSpectrum toll free at 888.682.9485 and speak to a representative.
*Information sourced from: www.RedHat.com