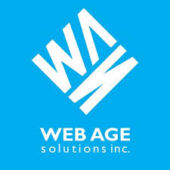 Web Age Solutions provides mentoring services and skills training to companies navigating the world of online business. Using industry-standard methodologies, they help their clients build efficient and cost-effective e-business systems. Their mentoring programs support the rapid development of mission-critical applications, while their technicians transfer their skills and knowledge to help clients maintain success. Web Age Solutions has hundreds of proprietary training courses to meet your needs. Therefore, Web Age Solutions is the ideal e-business education partner.
Web Age Solutions' curriculum is delivered via face-to-face training, online IT training or video-based training. Both dedicated as well as public training offerings are available to address your needs. For transformation programs, they provide a proven academy-style offering. Their online IT training delivery is real-time instructor-led. These online IT training courses utilize cloud based lab setups, hence eliminating the need for the students to do their own setup or to have a high-end computer on their end.
LearnSpectrum will help you assess your Web Age Solutions training requirements and craft a custom corporate training plan to meet your needs. Please call LearnSpectrum toll free at 888.682.9485 and speak to a client success Client Success Consultant.
*Information sourced from: www.webagesolutions.com