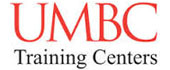 The UMBC Training Centers and /training/etc team delivers a total premium education experience in advanced technology. Their instructor breadth and depth is unsurpassed in the industry. Their training facility meets or exceeds industry standards to support training in the latest technologies. They shape their training to fit what you need, when you need it, in the format and on what platform you require. Together, the UMBC Training Centers and /training/etc team is a technical training powerhouse. They are the right fit for your training needs because they move technology faster to market than the large national franchises to bring you the most up-to-date courses as soon as the technology comes over the horizon.
UMBC Training Centers was founded in 2000 and is the premier provider of technical, engineering and professional skills training in the mid-Atlantic region, extending the instructional excellence of UMBC to individuals, businesses, non-profit organizations and government agencies. Their exclusive Rapid Applied Learning (RAL™) combines skills training and hands-on problem solving, guided by expert instructors, to create high-impact, individualized learning.
/training/etc was founded by a mathematician and software developer who spent 30+ years in the technical training industry. The company reflects this knowledge of how to serve their students, with great attention paid to courses being content rich, robust, and comprehensive. /training/etc offers more than 250 courses that encompass basic and specialized training and certifications. They offer several comprehensive training curricula to help you develop your learning plan.
LearnSpectrum will help you assess your UMBC Training Centers training requirements and craft a custom corporate training plan to meet your needs. Please call LearnSpectrum toll free at 888.682.9485 and speak to a representative.
*Information provided by UMBC Training Centers