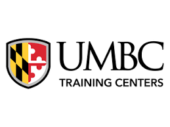 UMBC Training Centers is a premier provider of professional and technical training for individuals, businesses, non-profit organizations and government agencies. UMBC Training Centers is a part of the University of Maryland, Baltimore County (UMBC) and is organized as a not-for-profit organization owned by UMBC. UMBC Training Centers' programs are non-credit and UMBC Training Centers' students do not require academic admissions to UMBC.
UMBC Training Centers is trusted by dozens of commercial and government organizations for their training needs. Whether you are new to the workplace or new to the field, UMBC Training Centers' certificate programs can help prepare you for the next stage in your career. If you're already in the field and are looking to advance through professional development or certification, UMBC Training Centers offers a robust public schedule of short courses to help get you there. UMBC Training Centers delivers customized programs for organizations seeking to enhance the capabilities of their workforce and to improve employee engagement and retention.
LearnSpectrum will help you assess your UMBC Training Centers training requirements and craft a custom corporate training plan to meet your needs. Please call LearnSpectrum toll free at 888.682.9485 and speak to a Client Success Consultant.
*Information sourced from:  www.umbctraining.com