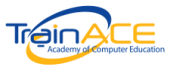 TrainACE is a professional computer training organization for ambitious professionals looking to progress within the IT field. TrainACE provides hands-on courses to teach the skills and knowledge required for today's demanding and evolving IT and cyber security industries. A premier IT training institution; TrainACE is recognized for its high-quality education, excellent instructors, and unbeatable price guarantee. Since 2001, they've been committed to providing a diverse library of on-site, online, and custom courses to individuals, companies, and government.
For those who are currently involved in IT or desire to become involved with the industry, TrainACE is the established and award-winning training organization that provides excellent customer experiences, unbeatable prices, and high-quality training. TrainACE is accredited by a number of IT industry and education agencies. Their programs are comprehensive, current, and undergo rigorous annual scrutiny. They provide all their customers with a quality experience, so that employers have well-trained, knowledgeable, and certified employees that make their organization better.
LearnSpectrum and TrainACE consultants are available to help you assess your team's training requirements, and then craft a custom corporate training plan to meet your needs. Please call LearnSpectrum toll free at 888.682.9485 and speak to a Client Success Consultant.
*Information sourced from: www.trainace.com