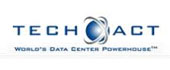 TechXact is the global leader of optimizing data centers and delivering state-of-the-art mission-critical sites and facilities through its expert driven data center services and solutions whose core-competency remains in designing, developing, implementing, and supporting robust, reliable, fully redundant, highly secured, highly available, and highly scalable Data Center and Infrastructure Solutions with the lowest cost of ownership possible.
TechXact has been developing and providing cutting-edge solutions through decades of accumulated expertise and in-depth experience across platforms, industries and varied terrains. TechXact leads its campaigns from its Americas, European, MEA and Asian presence and its tens of channel partners, resellers, associates, and affiliates worldwide.
TechXact offers industry's most effective and popular courses, which are all backed and accredited by IDCA.
LearnSpectrum brings TechXact seamless training solutions to their clients. To receive more information about TechXact's courses, dates, and locations, please contact a LearnSpectrum Client Success Consultant toll free at 888.682.9485.
*Information sourced from: www.techxact.com