Sunset Learning Institute (SLI)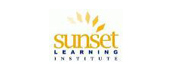 Sunset Learning Institute (SLI) has been an innovative leader in developing and delivering authorized technical training whose goal is to help their customers optimize their cloud technology investments. They do this by providing convenient, high quality technical training that their customers can rely on. They empower students to master their desired technologies for their unique environments. By offering both off-the-shelf courses and customized training solutions, Sunset Learning Institute is able to help technical professionals meet their career and certification goals. To ensure they understand their client's business needs from the start, SLI's account managers take the time to collaborate with each customer through a comprehensive consultative approach. By recommending the optimal training path, their customers have increased job performance and maximized return on their training investments.
Sunset Learning Institute understands the complexity of IT environments today and the number of technologies they encompass. SLI can service all your technical training needs. They offer a full schedule of guaranteed-to-run training dates for the following technologies: Cisco, Hortonworks Apache Hadoop, Juniper, VMware, Amazon Web Services (AWS), F5, ITIL, Palo Alto Networks, and Red Hat. What sets SLI apart is not only their immense selection of training options, but their convenient and consistent delivery system. All SLI courses are instructor-led, guaranteed to run, and available in over 50 locations across North America. No matter how complex your environment is or where you are located, SLI is sure to have a training solution that you can count on!
LearnSpectrum will help you assess your Sunset Learning Institute training requirements and craft a custom corporate training plan to meet your needs. Please call LearnSpectrum toll free at 888.682.9485 and speak to a Client Success Consultant.
*Information sourced from: www.sunsetlearning.com