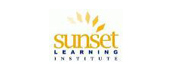 Sunset Learning Institute (SLI) feels that what sets them apart from other IT training providers is the caliber of their instructor staff. SLI's instructors hold the most respected certifications in the networking industry. Their instructor staff possesses a collective total of 60 years of data networking and voice technology experience and holds the most respected certifications in the networking industry as both instructors and practitioners. All of their instructors are Certified Cisco Systems Instructors (CCSIs) and hold CCNP Certifications with multiple Cisco Systems Specializations.
In addition to their instructor staff, SLI has a focused and experienced teams that understand the importance of providing a world class experience to their customers. This includes a dedicated student service team to handle all customer needs prior to and post class. They have a Sales team that works with both IT organizations, along with Channel Partner organizations. This team brings experience in supporting direct customer requirements and the intricacies of working in the Cisco Channel. Keeping with the high caliber of their instructor staff, their dedicated account managers are all Cisco Sales Experts (CSE), supporting their foundational knowledge to successfully manage your training initiatives.
LearnSpectrum will help you assess your Sunset Learning Institute training requirements and craft a custom corporate training plan to meet your needs. Please call LearnSpectrum toll free at 888.682.9485 and speak to a representative.
*Information sourced from: www.sunsetlearning.com