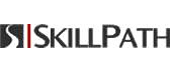 Over the years, SkillPath has grown to become the premier provider of business training in the United States, Canada, Australia and New Zealand. When they launched the company in 1989, they offered 82 seminars. Today they deliver more than 20,000 "how-to" sessions to over 500,000 people in 450 cities.
SkillPath's unique brand of training enhances skills, saves time and money and contributes to career and organizational success. Along with their technical training division, CompuMaster, they accomplish all this through:
Seminars, workshops and conferences. From teambuilding and business writing to Microsoft® Office suite applications they bring hundreds of one- and two-day sessions right to your community.
On-site training. They build customized training programs and deliver more than 3,500 courses to 80,000 employees each year–at Fortune 500 corporations, small businesses, government agencies and not-for-profit organizations.
LearnSpectrum will help you assess your SkillPath training requirements and craft a custom corporate training plan to meet your needs. Please call LearnSpectrum toll free at 888.682.9485 and speak to a representative.
*Information sourced from: www.skillpath.com