Society for Human Resource Management – (SHRM)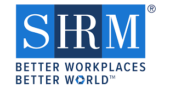 SHRM, the Society for Human Resource Management, creates better workplaces where employers and employees thrive together. As the voice of all things work, workers, and the workplace, SHRM is the foremost expert, convener, and thought leader on issues impacting today's evolving workplaces. With 300,000+ HR and business executive members in 165 countries, SHRM impacts the lives of more than 115 million workers and families globally.
SHRM instructors are SHRM-Certified, average more than 10 years of experience in educating thousands of HR professionals, and have an average of 15 years of practical HR experience. They combine leading adult learning techniques, subject matter expertise and real-world experiences to create a dynamic classroom environment. SHRM offers educational programs—competency-based HR education opportunities that support your development of critical competencies and continued advancement of your credibility. Earning your SHRM-CP or SHRM-SCP credential makes you a recognized expert and leader in the HR field—and a valuable asset to your organization, keeping you and your organization more competitive in today's economy.
LearnSpectrum can give you more information or schedule your SHRM training needs. Please call LearnSpectrum toll free at 888.682.9485 and speak to a Client Success Consultant.
*Information sourced from: www.shrm.org