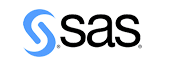 Your inherent need to understand the world around you continually propels you forward. SAS speeds your journey toward discovery. Analytics is their story because it can redefine yours. SAS is a trusted analytics powerhouse for organizations seeking immediate value from their data. A deep bench of analytics solutions and broad industry knowledge keep their customers coming back and feeling confident. With SAS®, you can discover insights from your data and make sense of it all. Identify what's working and fix what isn't. Make more intelligent decisions. And drive relevant change.
Your SAS education starts here. Take a course, advance your skills, get certified – and discover new opportunities. Gain a coveted skill in the business world by mastering SAS technology. Validate your knowledge and boost earning power. Eighty-four percent of students believe SAS training is a good investment and makes them better at their jobs.
LearnSpectrum can give you more information or schedule your SAS training needs. Please call LearnSpectrum toll free at 888.682.9485 and speak to a Client Success Consultant.
*Information sourced from: www.sas.com