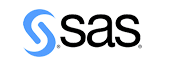 Some people see data as facts and figures. But it's more than that. It's the lifeblood of your business. It tells the history of your organization. And it's trying to tell you something. SAS helps you make sense of the message. As the leader in business analytics software and services, SAS helps you transform your data into insights that give you a fresh perspective on your business. You can identify what's working. Fix what isn't. Discover new opportunities. That's what SAS helps organizations do: turn large amounts of data into knowledge they can use. And SAS does it better than anyone.
SAS Training provides the state-of-the-art technical training and professional development that ensures SAS users get the most out of their software investment. Choose from a curriculum of more than 100 SAS, JMP and statistical courses offered in the traditional classroom setting, on-site at your location, in the Live Web classroom, or Self-Paced e-Learning, all aimed at improving user performance and skills using SAS technology.
LearnSpectrum and SAS consultants are available to help you assess your team's training requirements, and then craft a custom corporate training plan to meet the needs of your group. Please call LearnSpectrum toll free at 888.682.9485 and speak to a representative.
*Information sourced from: www.sas.com