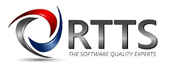 RTTS is the premier professional services organization that specializes in providing software quality for critical business applications. RTTS's products are developed in-house by their skilled and experienced team of software quality experts. They developed these products to address specific business needs in the software development marketplace.
RTTS's superlative selection of courses has been specifically designed to help industry professionals work with today's best-of-breed software quality tools. All courses, whether online or in-person, are taught by live instructors who are experts in the software quality field and who are certified by the testing tool vendor.
LearnSpectrum will help you assess your RTTS training requirements and craft a custom corporate training plan to meet your needs. Please call LearnSpectrum toll free at 888.682.9485 and speak to a Client Success Consultant.
*Information sourced from: www.rttsweb.com