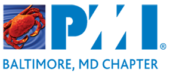 PMI Baltimore Chapter is a non-profit organization dedicated to educating Project Managers and promoting professionalism in Project Management. They are a proud member of PMI Region 5 Assembly of Chapter Presidents. The Project Management Institute divides the country into several regions, and encourages cooperation and communication between all chapters in each region. As the Baltimore Chapter is a Registered Education Provider with PMI, you can obtain PDUs (Professional Development Units) by attending chapter meetings and sponsored functions.
The Baltimore Chapter has a wide range of PDU offerings to its membership. We have 9 operational Chapter Sites which total over 65 Site Events per year. These offerings include seminars which allow Chapter membership and non-membership the opportunity to gain knowledge in many facets of project management and can apply this education experience to their everyday work environment. The Baltimore Chapter also provides its membership the opportunity to take prep courses in order to qualify to take the following PMI Credential Exams: Project Management Professional, Certified Associate of Project Management, Risk Management Professional, and Schedule Professional.
LearnSpectrum can give you more information or schedule your PMI training needs. Please call LearnSpectrum toll free at 888.682.9485 and speak to a Client Success Consultant.
*Information sourced from: www.PMIBaltimore.org