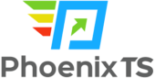 Phoenix TS offers world-class management, computer, and IT certification training courses at their facilities in the Maryland, Virginia, and Washington DC area as well as nationwide on-site courses. They service US government agencies, military organizations, and commercial businesses worldwide. Their cost effective, instructor-led training courses give students the knowledge they need to be more effective in the workplace.
Phoenix TS is committed to providing world-class computer training, IT certification, and management courses to organizations all over the globe. Their goal is, and always will be, to provide the highest quality of training possible while never losing sight of the family feel that has made their center successful. The right technical computer training and IT certification can dramatically increase your worth on the job market and the productivity of your team. Make sure you stay ahead of the curve in a rapidly changing environment with IT training from professionals you can count on.
LearnSpectrum will help you assess your Phoenix TS training requirements and craft a custom corporate training plan to meet your needs. Please call LearnSpectrum toll free at 888.682.9485 and speak to a Client Success Consultant.
*Information sourced from: www.phoenixts.com