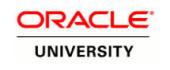 With more than 420,000 customers—including 100 of the Fortune 100— and with deployments across a wide variety of industries in more than 145 countries, Oracle offers a comprehensive and fully integrated stack of cloud applications, platform services, and engineered systems.
Why Choose Oracle University?
Expand your product knowledge and validate your expertise to give yourself an edge in the job market.
5 Reasons to Enroll in Oracle Certification or Training:
Career Growth: Oracle's curriculum is developed to teach you skills that directly align with real-life IT jobs.
Salary Advancement: Certification magazine found that Oracle Certified Professionals earn higher salaries when compared to other DBA or Developer professionals.
Expert Instruction: learn Oracle from the same team involved in Oracle product development.
Flexible Learning Options: train from anywhere, at any time. Pick the format that matches your learning style & schedule.
100 % Student Satisfaction Guarantee: if you're not completely satisfied with your training or certification experience, you can re-take the same class for free.
LearnSpectrum can arrange any Oracle training course for you, regardless of delivery method. Please contact a LearnSpectrum representative at 888.682.9485 for more information.
*Information sourced from: www.Oracle.com