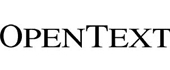 OpenText is the leader in Enterprise Information Management (EIM). Their EIM products enable businesses to grow faster, lower operational costs, and reduce information governance and security risks by improving business insight, impact, and process speed. Over 50 thousand companies use OpenText solutions to unleash the power of information based on OpenText's five EIM pillars: Enterprise Content Management (ECM), Business Process Management (BPM), Customer Experience Management (CEM), Information Exchange, and Discovery.
OpenText is committed to maximizing your technology investment by effectively leveraging and enhancing the OpenText ECM Suite of Products and Solutions. Their comprehensive education programs are designed to meet the needs of all OpenText users, ensuring the long-term success of your ECM deployment. Their goal is to help you develop both the technical know-how and the creative vision it takes to meet your most demanding business challenges.
LearnSpectrum will help you assess your OpenText training requirements and craft a custom corporate training plan to meet your needs. Please call LearnSpectrum toll free at 888.682.9485 and speak to a representative.
*Information sourced from: www.opentext.com