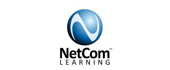 NetCom Learning is an innovative leader in IT, business, and executive training to companies, individuals, and government agencies dedicated to promoting the values of lifelong learning. NetCom Learning has trained over 80% of the Fortune 100 and helped advanced the skills of more than 71,000 professionals.
NetCom Learning's instructors have an average of 16 years of experience and their courses have produced more than 1,700 client testimonials with 96% of their clients recommending their services. Their quality customized learning solutions have earned them the respect of the Learning industry, being named Microsoft's Worldwide Training Partner of the Year, Inc's 500|5000 fastest growing company, and a Top 20 IT Training Company at TrainingIndustry.com.
LearnSpectrum will help you assess your NetCom Learning training requirements and craft a custom corporate training plan to meet your needs. Please call LearnSpectrum toll free at 888.682.9485 and speak to a representative.
*Information sourced from: www.netcomlearning.com