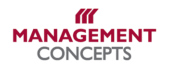 Management Concepts is the nation's premier provider of career development, performance improvement, and human capital solutions for the public sector. Since 1973, they have collaborated with and supported Federal Government agencies and state and local governments to empower individuals, teams, and organizations to grow and achieve their personal and organizational missions with their high-impact training and transformative consulting solutions.
Management Concepts offers over 275+ courses spanning 8 topics of interest to the public sector. Their on-staff instructional designers work with subject matter experts who continually refine and update content to keep it up-to-the-minute. The result is a comprehensive training course that delivers consistent learning outcomes for their students. Start with impactful and relevant course content designed to help individuals develop the skills they need to succeed in today's challenging work environment. Then add experienced instructors with an average student satisfaction rating of 95%. The result: high-quality learning targeted specifically to the public sector student.
LearnSpectrum will help you assess your Management Concepts requirements and craft a custom corporate training plan to meet your needs. Please call LearnSpectrum toll free at 888.682.9485 and speak to a Client Success Consultant.
*Information sourced from: www.managementconcepts.com