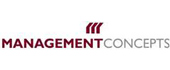 Management Concepts is the nation's premier provider of training and professional development solutions serving the public and private sectors. Founded in 1973, Management Concepts has collaborated with every major agency in the federal government, thousands of state and local government offices, numerous non-profit organizations and universities, and hundreds of corporations helping more than one million professionals unleash their potential. Their experienced, knowledgeable instructors and facilitators educate clients on critical topics including: Federal Acquisition & Contracting; Federal Grants & Assistance; Federal Financial Management; Leadership & Management; Federal Project & Program Management; Federal Human Resources & Retirement Planning, Key Professional Skills and Business Analysis & Analytics. Their course development designers utilize industry-leading adult learning principles and focus on providing timely, relevant knowledge and practical, applicable skills in all of our courses.
Whether you require one training course, a custom certificate program to strengthen your team's competencies, or need expert consulting to solve your organization's professional development issues, Management Concepts can deliver a solution to suit your organization's unique needs. Any of their 250+ courses can be tailored or completely customized, combined with consulting services, or used in conjunction with on-going coaching and hands-on workshops to achieve your learning objectives and meet your organization's specific challenges.
LearnSpectrum will help you assess your Management Concepts requirements and craft a custom corporate training plan to meet your needs. Please call LearnSpectrum toll free at 888.682.9485 and speak to a representative.
*Information sourced from: www.managementconcepts.com