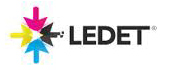 Ledet is an Adobe Certified Training Provider, an Autodesk Authorized Training Center, a Google Authorized Training Center, a Microsoft Silver Learning Partner (i.e. Microsoft authorized), and a Quark Authorized Training Center. Their instructors know the products they teach inside and out. They are vendor certified and many are Certified Technical Trainers. Ledet provides real-world training classes to companies in physical, instructor-led classrooms across the US. They integrate this real-world experience with their classroom training to make sure the classes are relevant. Their specialty is organizing and delivering top-notch onsite training.
Ledet provides customized training on workflows for prepress, web development, and digital video. They customize their courses to incorporate production requirements and procedures. If you have a particular training requirement that is more than what the typical software course can provide, Ledet can provide a course that covers both the software and your company's unique production workflow. They offer an extensive certification training program for the Adobe Certified Expert program, the Autodesk Certified Professional program and other vendor authorizaton programs.
LearnSpectrum will help you assess your Ledet requirements and craft a custom corporate training plan to meet your needs. Please call LearnSpectrum toll free at 888.682.9485 and speak to a Client Success Consultant.
*Information sourced from: www.ledet.com