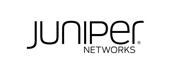 Juniper Networks exists to solve the world's most difficult problems in networking technology. They bring simplicity to networking with products, solutions, and services that connect the world. A company of innovators, they believe that creating simplicity through engineering is the highest form of innovation. From their first release, the ground-breaking M40 router, to today's end-to-end advancements in network security, automation, performance, and scale, Juniper Networks' drive to move beyond the constraints of complexity has expanded the reach of networks everywhere. They've enabled their customers to connect to everything and empower everyone in ways that have literally changed the world.
Juniper Networks provides hands-on technical training in the classroom or online to help you operate and maintain high-performance networks, giving you the knowledge and skills you need to unleash the full power of your network.
The Juniper Networks Certification Program (JNCP) is a multi-tiered program of written and hands-on lab exams. Their mission is to validate the Juniper skill set among the world's leading networking professionals. They provide a multitiered program of written and hands-on lab exams to certify the world's leading networking professionals in Junos software.
LearnSpectrum will help you assess your Juniper Networks requirements and craft a custom corporate training plan to meet your needs. Please call LearnSpectrum toll free at 888.682.9485 and speak to a Client Success Consultant.
*Information sourced from: www.juniper.net