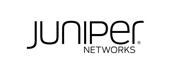 At Juniper Networks, they believe the network is the single greatest vehicle for knowledge, understanding, and human advancement that the world has ever known. Now more than ever, the world relies on high-performance networks. And now more than ever, the world needs network innovation to unleash our full potential. Every day, Juniper Networks is helping their customers build the best networks on the planet. Every innovation they envision, every technology they create is informed by their desire to help solve their customers' toughest challenges so they can compete and thrive today and into the future.
Juniper Networks Education Services can help ensure that you have the knowledge and skills to deploy and maintain cost-effective, high-performance networks, as well as demonstrate your technical expertise to keep you ahead of the technology curve.
LearnSpectrum will help you assess your Juniper Networks requirements and craft a custom corporate training plan to meet your needs. Please call LearnSpectrum toll free at 888.682.9485 and speak to a representative.
*Information sourced from: www.juniper.net