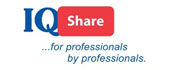 IQShare was founded in 2004 with one mission: to create an easy, cost effective way for corporations to acquire knowledge by supplying industry leading technology trainers. IQShare makes it a priority to keep their instructors current with the latest changes in technology, allowing their clients to focus on their business. Under the leadership of their management team and Board of Directors, IQShare has grown to be the industry standard for knowledge acquisition.
IQShare offers a wide range of training solutions. By relying on IQShare, clients receive guaranteed, high-quality training delivery at the lowest prices, on-demand, where and when they wish.
Achieve indispensable IT and business skills through IQShare's expansive portfolio of training and certification preparation courses. Gain new skills, advance professionally and transform the way you work with the support of IQShare's award-winning curriculum and industry-leading instructors.
LearnSpectrum will help you assess your IQShare training requirements and craft a custom corporate training plan to meet your needs. Please call LearnSpectrum toll free at 888.682.9485 and speak to a Client Success Consultant.
*Information sourced from: iq-share.com