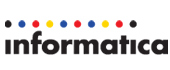 Informatica provides data integration software and services that enable organizations to gain a competitive advantage in today's global information economy by empowering them with timely, relevant and trustworthy data for their top business imperatives. Informatica's leadership team is singularly focused on developing and delivering data integration software and services.
Informatica University supports your organization's success by providing your team with the skills and knowledge necessary to fully leverage and optimize Informatica software—now and into the future. A complete curriculum of role-based training ensures that your team members can meet the demands of their jobs—whether deploying, maintaining, or upgrading Informatica products—and align your IT infrastructure with your business needs. Choose from among the instructor-led courses that span their entire product line. Informatica University offers classes on-site and online. Their newest offering, onDemand Training, provides technical training right when you need it—anytime, anywhere.
LearnSpectrum will help you assess your Informatica training requirements and craft a custom corporate training plan to meet your needs. Please call LearnSpectrum toll free at 888.682.9485 and speak to a representative.
*Information sourced from: www.informatica.com