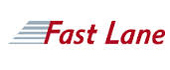 Fast Lane, a leading provider of advanced IT Training courses, offers complete Authorized training solutions for Cisco, NetApp, VMware and more. They are a proud developer of new advanced technology courses to ensure your access to the most updated training for your career. Fast Lane's Instructor-Led Training (ILT), Instructor-Led Online (ILO), and FLEX™ Classroom courses utilize Authorized Vendor and custom developed curriculum. They will also come to your business and provide private group, on-site trainings. Their instructors are all Vendor Certified, and most use their expert knowledge to contribute heavily to our new course development.
Learning with Fast Lane means real-world experience that translates from the classroom to the job with ease. Their Vendor-Certified instructors have expertise with the most advanced technologies and can explain each at a level that ensures each student gains the knowledge and skills to immediately impact their productivity. Plus, Fast Lane offers a variety of Foundation Courses led by their Vendor Certified Instructors which will prepare you for use of the hottest technologies. At Fast Lane, you will receive quality training that prepares you for real-world application. They're here to help you build the foundation for an exciting IT career.
LearnSpectrum will help you assess your Fast Lane requirements and craft a custom corporate training plan to meet your needs. Please call LearnSpectrum toll free at 888.682.9485 and speak to a representative.
*Information sourced from: www.FastLaneUS.com