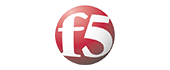 F5's mission is based on the fact that businesses depend on apps. Their long-standing belief that applications are the most valuable assets of any organization in the digital age has been the foundation of their strategy to become the leader in multi-cloud application services. When you combine F5's and NGINX's expertise powering more than half of the world's applications across all types of environments, with Shape's insight from mitigating one billion application attacks per day, you have a company that knows how to deliver and secure more applications, and more value, than any company in the industry.
No matter where you are in your implementation, LearnF5 product and services trainings ensure your applications are secure, fast and highly available on premises and in the cloud. F5 Professional Certification validates your expertise in manipulating the entire application stack—from traditional network knowledge all the way to advanced application-layer understanding, with the ability to integrate those two worlds.
LearnSpectrum and F5 consultants are available to help you assess your team's training requirements, and then craft a custom corporate training plan to meet the needs of your group. Please call LearnSpectrum toll free at 888.682.9485 and speak to a Client Success Consultant.
*Information sourced from: www.F5.com