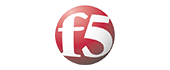 From banking to buying, more and more people are using applications than ever before. But those applications can't run themselves. They need specific services so they can be fast, secure, and available anytime, anywhere, on any device. Applications without constraints isn't just a company vision, it's how F5 measures their contributions each and every day. Delivering the most secure, fast, and reliable applications to anyone anywhere is a mission that starts with solutions built on robust and flexible technologies.
Equip your team and advance your career by gaining greater knowledge of F5 products and solutions. They offer industry-leading training and certification to their customers through F5 University, through their partner network, and through a series of free, online classes. Learn more about the ways you can enhance your ability to deploy sophisticated application delivery solutions.
LearnSpectrum and F5 University consultants are available to help you assess your team's training requirements, and then craft a custom corporate training plan to meet the needs of your group. Please call LearnSpectrum toll free at 888.682.9485 and speak to a representative.
*Information sourced from: www.F5.com