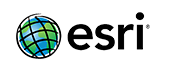 Esri is the global market leader in GIS, helping customers get results since 1969.  Esri was founded to help solve some of the world's most difficult problems. They do so by supporting their users' important work with a commitment to science, sustainability, community, education, research, and positive change.
Esri builds ArcGIS, the world's most powerful mapping and spatial analytics software.  ArcGIS software and apps combine mapping and data analytics to deliver location intelligence and meet digital transformation needs for organizations of all sizes.  Esri believes location intelligence can unlock data's full potential in every organization.  They support organizations everywhere with the most powerful mapping and spatial analytics technology available.
ArcGIS provides Esri users with a scientific-based approach to solving problems in real time.  Whether you're brand-new to ArcGIS or a seasoned GIS professional who wants to master the latest technology, Esri has the resources to help you achieve your goals.  From individual technical certifications to instructor-led training for your staff, Esri supports all stages of learning.
LearnSpectrum and Esri consultants are available to help you assess your team's training requirements, and then craft a custom corporate training plan to meet the needs of your group. Please call LearnSpectrum toll free at 888.682.9485 and speak to a Client Success Consultant.
*Information sourced from: www.Esri.com