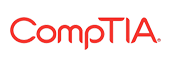 CompTIA is the voice of the world's information technology (IT) industry. As a non-profit trade association advancing the global interests of IT professionals and companies, CompTIA focuses their programs on four main areas: education, certification, advocacy and philanthropy.
CompTIA's mission is to:
Educate the IT channel: CompTIA's educational resources, comprising online guides, webinars, market research, business mentoring, open forums and networking events, help their members grow their businesses and become "best in class."
Certify the IT workforce: CompTIA is the leading provider of technology-neutral and vendor-neutral IT certifications.
Advocate on behalf of the IT industry: On Capitol Hill, CompTIA brings the power of small- and medium-sized IT businesses to bear as a united voice.
Give back through philanthropy: CompTIA's foundation enables disadvantaged populations to gain the skills they need for employment in the IT industry.
LearnSpectrum and CompTIA consultants are available to help you assess your team's training requirements, and then craft a custom corporate training plan to meet the needs of your group. Please call LearnSpectrum toll free at 888.682.9485 and speak to a representative.
*Information sourced from: www.CompTIA.org