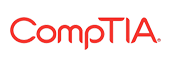 CompTIA, the world's leading tech association, is a thought leader and an action leader. From their IT professional association to their leading certification programs, from their original research to their member communities and councils, CompTIA's unparalleled programs set industry standards, foster skills development and generate knowledge and insight every day.
You can't get a job or successfully run a business without all the right tools. In the ever-changing information technology industry, education is essential. CompTIA's information technology education efforts include a comprehensive suite of IT channel training, a variety of events and meetings, and a steady stream of research and market intelligence studies. Everything is designed to help you succeed.
For more than 20 years, CompTIA has been the global leader in vendor-neutral IT certifications in skills ranging from IT support to networking and cybersecurity. With more than 2 million IT certifications issued worldwide, CompTIA has developed certification exams that map directly to today's current IT job roles. Their regular review and exam updates ensures that certifications continue to address the needs of today's IT job roles. Whether you're looking for a higher salary, better work-life balance, or something with greater growth potential, CompTIA certifications can help.
LearnSpectrum and CompTIA consultants are available to help you assess your team's training requirements, and then craft a custom corporate training plan to meet the needs of your group. Please call LearnSpectrum toll free at 888.682.9485 and speak to a Client Success Consultant.
*Information sourced from: www.CompTIA.org