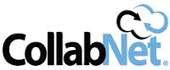 Over the last decade, CollabNet has successfully pioneered collaborative and distributed agile software development in the cloud for many of the world's largest organizations. Today, they are the industry leading platform enabling distributed teams of all sizes to Code, Collaborate, and Deploy their software applications on-premise and in the cloud.
Through their experience in the open-source and agile communities, they saw that the best practices found in these community processes, tools, and resources could transform the way enterprise software was developed. Instead of struggling with disparate and disconnected processes and tools, they realized that organizations and distributed development teams could realize greater innovation through a set of modern and transparent collaborative methodologies on a Web-based platform.
Whether CollabNet's training is delivered in a public setting, a private engagement, online, or as interactive computer-based session, CollabNet training takes the approach that students learn best by doing.
LearnSpectrum will help you assess your CollabNet training requirements and craft a custom corporate training plan to meet your needs. Please call LearnSpectrum toll free at 888.682.9485 and speak to a representative.
*Information sourced from: www.Collab.net