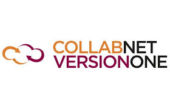 CollabNet VersionOne is the Enterprise Value Stream Management leader that accelerates high value software development and delivery while improving quality and reducing risk. Their offerings provide global enterprise and government market leaders with a cohesive solution, spanning from idea through delivery, that enables them to capture, create, deliver, and measure the flow of business value throughout their application development lifecycles.
Are you looking for a way to make sure you succeed? CollabNet VersionOne offers both private and public Agile, SAFe® and Scrum interactive courses as well as hands-on training to get you started with adoption of their flagship products VersionOne and TeamForge®. This approach grows from the belief that successful Agile and Scrum teams start from a strong foundation and then grow toward mastery. As such, CollabNet VersionOne combines the best of their training and coaching.
LearnSpectrum will help you assess your CollabNet VersionOne training requirements and craft a custom corporate training plan to meet your needs. Please call LearnSpectrum toll free at 888.682.9485 and speak to a Client Success Consultant.
*Information sourced from: www.Collab.net