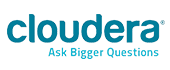 Cloudera University is the leading provider of Apache Hadoop education, with classroom training in more than 50 cities around the world, in addition to online. Cloudera enhances the storage and processing technologies originally developed by the world's biggest Web companies. Today, Cloudera is the market leader in Hadoop with tens of thousands of nodes under management, as well as the top contributor of code to the Hadoop ecosystem. Markets include financial services, government, telecommunications, media, web, advertising, retail, energy, bioinformatics, pharma/healthcare, university research, oil and gas, gaming and more.
Cloudera offers the most comprehensive suite of courses to address the Hadoop objectives of every data professional: developers, administrators and data analysts. Build game-changing Big Data applications on Hadoop and future-proof your career. Drive Hadoop success and scale the value of Big Data from system strategy to high-value analytics. Analyze Big Data at the speed of thought using real-time SQL query and data science.
LearnSpectrum will help you assess your Cloudera requirements and craft a custom corporate training plan to meet your needs. Please call LearnSpectrum toll free at 888.682.9485 and speak to a representative.
*Information sourced from: www.Cloudera.com