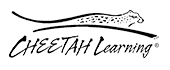 Cheetah Learning is a Project Management Institute Registered Education Provider (PMI® REP) and is International Association of Continuing Education and Training (IACET) Certified. Their customers around the world use Cheetah Project Management everyday in their operations to drive measurable bottom line results. Their clients span many industries and all variations of operations – large and small organizations, for profits, non-profits and governments.
You can use the speed and power of Cheetah Project Management to achieve your own outstanding results as well. Cheetah teaches their courses in public venues, onsite at their clients' facilities, and online.
LearnSpectrum and Cheetah Learning consultants are available to help you assess your team's training requirements, and then craft a custom corporate training plan to meet the needs of your group. Please call LearnSpectrum toll free at 888.682.9485 and speak to a Client Success Consultant.
*Information sourced from: www.CheetahLearning.com