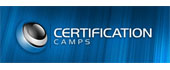 Certification Camps is the leader in Microsoft Training & Certification Bootcamps. They are the #1 provider of Microsoft MCSE 2012 Certification Training. They offer "All-Inclusive" Bootcamp pricing with airfare, lodging, transportation, meals, books & test vouchers.
Certification Camps's training model blends knowledge and certification into one solution. This "hybrid" solution is designed for you to learn the objectives of the exam, not just "learn the exam". Most training centers offer multiple formats of training – and bootcamps is just a fraction of the business. Certification Camps exclusively delivers specialized training using the Microsoft Boot Camp format. Most important, their instructors are second to none. Each instructor also provides consulting services and works on several projects each year in their respective technologies.
LearnSpectrum will help you assess your Certification Camps requirements and craft a custom corporate training plan to meet your needs. Please call LearnSpectrum toll free at 888.682.9485 and speak to a representative.
*Information sourced from: www.certificationcamps.com