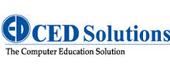 CED Solutions is your one-stop shop for computer training, from everything from the popular Microsoft Office applications to Microsoft certification, and Cisco training.  CED Solutions' Mission is to be the best provider of technical and application training in the United States and Canada. They provide the most outstanding instruction, staff support, facilities, meals, testing centers in the country. They offer one of the largest offerings of training programs, the most difficult technical classes, and offer all inclusive packages for the ease of our students to include round-trip airfare, lodging, meals, hands-on instruction, course materials, practice exams, and certification exams while providing the highest rate of satisfaction and achievement possible by their students.
CED Solutions, LLC provides the most thorough training available on over 100 programs throughout the country and the world. They train thousands of students each year on Microsoft, Cisco, Novell, Oracle, CompTIA, SCP, Adobe, Linux/Unix, ISC, and more. CED Solutions is a Microsoft Partner and all Microsoft instructors are certified Microsoft instructors  in the courses they teach. Their students take up to 800 exams every two weeks and their Atlanta location has one of the largest testing centers in the country with over 30 testing stations to complete your Certifications. They are a Vue, Prometric, and Certiport testing center.
LearnSpectrum will help you assess your CED Solutions training requirements and craft a custom corporate training plan to meet your needs. Please call LearnSpectrum toll free at 888.682.9485 and speak to a Client Success Consultant.
*Information sourced from: www.cedsolutions.com