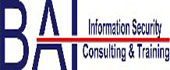 BAI is a provider of information security training and consulting services, specializing in certification and accreditation (C&A) of DoD and Federal information systems. Based in Southwest Virginia, BAI supports a nationwide clientele, developing and delivering instructor-led training for government programs, contractors, product developers and service providers.
BAI provides training services in support of the Federal Information Security Management Act (FISMA). Training programs include: Risk Management Framework (RMF) for DoD IT, RMF for Federal Agencies, and Information Security Continuous Monitoring (ISCM). RMF training programs include a one-day "fundamentals" and three-day "in depth" classes. ISCM classes are delivered in a three-day course. BAI offers three flexible delivery methods: traditional classroom, online instructor-led, and onsite at government or contractor location. Regularly scheduled classes are listed at www.rmf.org.
Principal Consultant Lon J. Berman has more than 40 years' experience in the information systems industry. His areas of specialization include information security, training, system development and integration. He is noted for his abilities in multidisciplinary problem solving, technical and non-technical communication, and team leadership. Lon is a recognized authority in the field of information security risk management. Among his specific areas of expertise are Information Assurance, Certification and Accreditation of federal government systems (RMF, DIACAP, FISMA, and DCID), government security policies and guidelines, security assessment methodology, and information security training.
LearnSpectrum brings BAI's seamless training solutions to their clients. To receive more information about BAI's courses, dates, and locations, please contact a LearnSpectrum representative toll free at 888.682.9485.
*Information sourced from: www.diacap.net