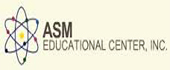 Founded in 1992, ASM Educational Center is a Woman-Owned Certified Minority Small Business located in the State of Maryland with extensive expertise and experience and a history of continuous progressive growth. Over the course of their 28 years existence, ASM has trained more than of 35,000+ Government employees, Government and Military contractors, Private Sector professionals, University students/faculty, Individuals and International Students in various IT and Technical disciplines. Their certified multilingual instructors conduct training either at their facility, the customer's premise, or the customer's designated locations anywhere in the world.
ASM uses a structured approach to deliver training topics. Varying training methods maximizes participant involvement and learning while accommodating for diverse learning styles. Engaging the learner in the content is as important as interactive ways for making content engaging and relevant. Certification is valuable and the more you acquire the more you'll be in demand. It shows you have the skills and dedication to your career and that's important to companies and organizations. Consequently, many large corporations around the world recommend or require multiple certifications for their IT staff or partners.
LearnSpectrum can help you determine which ASM courses best fit your training needs. For more information, please contact a Client Success Consultant toll free at 888.682.9485.
*Information sourced from:  www.asmed.com