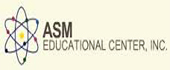 Based in Rockville, MD in the Washington DC Metro Area, ASM Educational Center, Inc. (ASM) is a full-fledged company providing training for IT Certification, traditional or boot camp format, and a variety of IT professional services for companies, organizations, and government.
Keeping a solid reputation as a training provider for University of Maryland students and for employees of companies from DC, Maryland, and Virginia, ASM provides reliable, quality certification training services. More than 14,000 students have reached their certification goals through ASM training services. Certified, multilingual instructors conduct certification training at either their metro-accessible training center or at your facility.
LearnSpectrum will coordinate ASM Educational Center training for all prospective attendees. If you are ready to enroll or if you are interested in receiving more information about ASM Educational Center's programs, please contact a LearnSpectrum representative toll free at 888.682.9485.
*Information sourced from: www.asmed.com