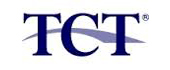 TCT Computing Group can provide your company or government agency's consulting or training needs for testing state-of-the-art Web-based applications to legacy mainframe-based systems. Their structured, disciplined testing methodology is the key to their success. Experienced staff members offer professional solutions tailored to help you fulfill your testing goals.
TCT Computing Group, Inc. is pleased to offer software testing and business technology optimization courses via public classes, on-site, online, private groups, and through their new eLearning classes.
LearnSpectrum will help you assess your TCT Computing Group training requirements and craft a custom corporate training plan to meet your needs. Please call LearnSpectrum toll free at 888.682.9485 and speak to a representative.
*Information sourced from: www.tctcomputing.com