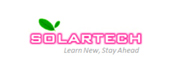 Founded in 1996, Solartech is a Microsoft managed and award winning Gold Certified Partner for Learning Solutions. Since 2003, Solartech is leading the training industry with their innovative LivE distance learning solutions for Microsoft technologies. In 2007, Solartech was the first training center to launch Microsoft Official Distance Learning worldwide.
Solartech provides Microsoft technology training to enterprise clients worldwide. As a Gold learning partner they provide training on their Live Online learning platform as well as formal classroom training. With their certified and industry respected instructors, they provide the highest quality training.
LearnSpectrum will help you assess your Solartech training requirements and craft a custom corporate training plan to meet your needs. Please call LearnSpectrum toll free at 888.682.9485 and speak to a representative.
*Information sourced from: www.solartech.us