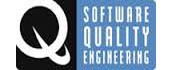 Software Quality Engineering delivers training, support, research, and publications to software managers, developers, test professionals, and quality engineers worldwide. Since 1986, they have been at the forefront of software quality improvement technology and were instrumental in setting the stage for the software industry to view testing as a distinct discipline. Today, Software Quality Engineering produces several of the most respected conferences in the software testing industry and provides testing and development training for more than half of the Fortune 1000. They also produce some of the industry's highest-rated publications—Better Software magazine and StickyMinds.com.
Software Quality Engineering's hands-on experience and training expertise help companies—large and small—improve their processes, gain measurable control over software projects, and deliver better software with a higher ROI. With an experienced team of associates, field-proven methodologies, an array of international conferences, training courses, consulting services, and specialized publications and research, Software Quality Engineering is a relied upon resource by the Fortune 1000 companies.
LearnSpectrum will help you assess your Software Quality Engineering training requirements and craft a custom corporate training plan to meet your needs. Please call LearnSpectrum toll free at 888.682.9485 and speak to a representative.
*Information sourced from: www.sqe.com