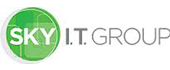 Sky I.T. Group is a single source IT Solution provider that focuses on its customers' bottom line business results by driving technology optimization. They are dedicated to assisting customers in every aspect of aligning IT with the business and offer top of the line solutions and services to their customers. Their expertise, experience, and best practices methodology ensures that their customers realize the maximum return on their IT investments and have made Sky I.T. Group an IT solutions industry leader.
As an HP Software Partner, Sky I.T. Group knows that superior performance is critical for your business. That is why Sky offers enterprises worldwide, a comprehensive panel of HP's I.T. Management Tools, Services and Educational Solutions.
LearnSpectrum will help you assess your Sky I.T. Group training requirements and craft a custom corporate training plan to meet your needs. Please call LearnSpectrum toll free at 888.682.9485 and speak to a representative.
*Information sourced from: www.skyitgroup.com