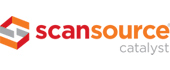 ScanSource Catalyst is a two-tier, value-added technology distributor that sells and supports voice, video and data solutions, including wireless networking and storage. ScanSource Catalyst is dedicated to filling a need in the channel by providing best-of-breed products. Selling data? ScanSource Catalyst has you covered with VoIP gateways and managed wireless LAN services. And, video resellers won't want to miss their lineup of power protectors, speakers, and videoconferencing solutions.
When they say that they believe in the value of training, that's not just lip service – it's a commitment to their own team and a statement about how they do business. In fact, their own sales reps receive more than 110 hours of training every year covering everything from new product lines to the hottest trends and biggest challenges facing resellers today.
LearnSpectrum will help you assess your ScanSource Catalyst requirements and craft a custom corporate training plan to meet your needs. Please call LearnSpectrum toll free at 888.682.9485 and speak to a representative.
*Information sourced from: www.scansourcecatalyst.com