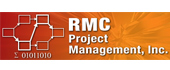 RMC Project Management develops and trains project managers, business analysts and agile practitioners by providing the skills necessary to succeed in their careers.
RMC delivers a wide range of project management, business analysis and agile training in multiple learning formats including Live Online, e-Learning, Self-Study, and Traditional Classroom Training. The company continues to develop and provide innovative, real-world tools and instruction, delivered by professionals with extensive experience and a working knowledge of industry best practices. RMC provides individuals and teams with the opportunity to learn and use highly effective Project Management, Business Analysis and Agile practices that can be applied immediately on the job. They listen to students and clients, and integrate their ideas and perspectives to enrich the learning experience. All RMC instruction and content focuses on a continuous cycle of learning. They plan, set goals and teach—then measure progress toward goals and adjust accordingly. RMC incorporates real-time feedback into all of its programs wherever possible, and is always monitoring for additional learning opportunities. In this way, they understand that best practices have been mastered.
LearnSpectrum will help you assess your RMC Project Management training requirements and craft a custom corporate training plan to meet your needs. Please call LearnSpectrum toll free at 888.682.9485 and speak to a representative.
*Information sourced from: www.rmcproject.com