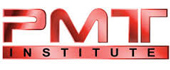 Project Management Training Institute (PMTI) is a fast growing Project Management Consulting and Training Services company. At PMTI, they are committed to providing cost-effective, quality services to meet their customers' training requirements. They are a Project Management Institute (PMI®) Registered Education Provider (REP Status #: 1942).
PMTI conducts PMP training bootcamp courses in the USA with a 100% money-back guarantee and PMP exam prep classes in Canada with pass or full money-back guarantee. Join the tens of thousands of PMTI graduates who have passed PMP certification.
LearnSpectrum will help you assess your PMTI training requirements and craft a custom corporate training plan to meet your needs. Please call LearnSpectrum toll free at 888.682.9485 and speak to a representative.
*Information sourced from: www.4pmti.com