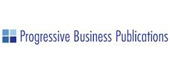 Progressive Business Publications (PBP) is a diversified information company comprised of 15 divisions and product lines that provide expert print and online business information and resources helping professionals do their jobs better. For over two decades, PBP has quietly achieved unparalleled success in the field of specialized information and education services. They have successfully launched 11 new businesses in the last eight years alone and their record of new product launches and successful expansion into high-growth business areas is unmatched in the industry.
As people have changed how they communicate and interact with each other, PBP's online training divisions have changed how they educate and share knowledge. Their trainings have grown from conferences to include live discussions, downloadable lessons and materials, and online interactive courses featuring re-playable lectures and lively discussion boards. Just as their formats have evolved, their spectrum of topics covered has broadened. They offer training, conferences, and courses for educators, HR professionals, current and future leaders and managers, administrative professionals, A/P professionals, IT developers, safety managers, medical coders, financial managers, marketing professionals and many, many more on a diverse series of topics and areas of focus.
LearnSpectrum will help you assess your Progressive Business Publications training requirements and craft a custom corporate training plan to meet your needs. Please call LearnSpectrum toll free at 888.682.9485 and speak to a representative.
*Information sourced from: www.pbp.com