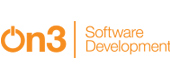 On3 builds custom software focused on Customer Experience (CX). Their emphasis is on usability, design, and execution that can get you where you want to go. Your goals are their goals. Through strategic collaboration and integrated development, the On3 team has adapted a highly-effective method of delivering support to their clients – listening to their client's needs and targeting their goals to meet those needs. With a carefully designed project management system, they follow four main principles: discovery, design, development, and delivery with regular check points by their software engineers and specialists to assure that their work is completed to an unparalleled degree of expertise. Because On3 operates with a method of full transparency, information and specialized skills are shared and partnerships grown.
On3 offers a unique approach to even the most common problems. Their team is committed to excellence in everything they do. Not only do they take the discovery process seriously in order to avoid problems down the road, they cross-check and knowledge-share to assure their work is done correctly and to pave the way for seamless integration. It is On3's goal to help grow your team's expertise from within. Your investment in their people is, in turn, an investment in your own people.
LearnSpectrum will help you assess your On3 training requirements and craft a custom corporate training plan to meet your needs. Please call LearnSpectrum toll free at 888.682.9485 and speak to a representative.
*Information sourced from: www.on3software.com