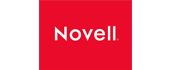 Novell designs and builds software that makes people more productive and work environments more secure and easier to manage. Regardless of how or where people work. They support thousands of organizations around the world with products that enable your work force in the office and on the go. These solutions include endpoint management, collaboration, and file and networking solutions. With products such as Novell Filr™, Novell ZENworks®, GroupWise®, and Novell Open Enterprise Server, you can reach new levels of productivity while minimizing cost, complexity and risk.
Novell Training Services provides you a full spectrum of certification and training opportunities to support your Novell solutions. With Novell certification and training, you and your staff will be fully prepared to meet the complexities and challenges of managing your network. From introductory training for those just starting out to Advanced Technical Training (ATT) for the well-versed engineer—Novell Training Services can provide you the training you need. Training Services has a full courseware catalog you can choose from. They recognize that some people learn better in a classroom setting with an experienced instructor to answer questions—and others learn more effectively by tackling new materials on their own with plenty of time to review and try out different solutions. Whatever your style or method of learning—from instructor-led, customized training to self-paced, self-study kits—Training Services has you covered. And with Novell Authorized Training Partners delivering training all over the world—you are sure to find training in your area! With training and Novell—your network and your business are sure to succeed.
LearnSpectrum will help you assess your Novell training requirements and craft a custom corporate training plan to meet your needs. Please call LearnSpectrum toll free at 888.682.9485 and speak to a representative.
*Information sourced from: www.novell.com