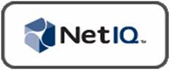 NetIQ is a global, enterprise software company with a focus on the three persistent challenges in your environment: change, complexity and risk – and how they can help you control them. In order to provide reliable control, NetIQ first makes sure they understand the real-world scenarios in which IT organizations like yours operate – day in and day out. That's the only way they can develop practical, intelligent IT solutions that successfully yield proven, measurable results. And that's so much more rewarding than simply selling software.
Driving your success is NetIQ's passion. They place your success at the heart of how they do business. From product inception to deployment, they understand that you need IT solutions that work well and integrate seamlessly with your existing investments; you need ongoing support and training post-deployment; and you need someone that is truly easy to work with – for a change. Ultimately, when you succeed, everyone succeeds.
LearnSpectrum will help you assess your NetIQ training requirements and craft a custom corporate training plan to meet your needs. Please call LearnSpectrum toll free at 888.682.9485 and speak to a representative.
*Information sourced from: www.netiq.com