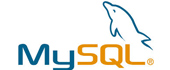 MySQL is the world's most popular open source database software, with over 100 million copies of its software downloaded or distributed throughout its history. With its superior speed, reliability, and ease of use, MySQL has become the preferred choice for Web, Web 2.0, SaaS, ISV, Telecom companies and forward-thinking corporate IT managers because it eliminates the major problems associated with downtime, maintenance and administration for modern, online applications. The flagship MySQL offering is MySQL Enterprise, a comprehensive set of production-tested software, proactive monitoring tools, and premium support services available in an affordable annual subscription. MySQL is a key part of LAMP (Linux, Apache, MySQL, PHP / Perl / Python), the fast-growing open source enterprise software stack. More and more companies are using LAMP as an alternative to expensive proprietary software stacks because of its lower cost and freedom from platform lock-in.
Whether you are a beginner or an experienced user, a DBA or a developer, you can find a MySQL course that meets your training goal. Oracle Certifications are among the most sought after badges of credibility for expertise in the Information Technology marketplace. An Oracle Certification demonstrates that you have a solid understanding of your job role and of MySQL products. Consultants, developers and DBAs use Oracle certifications on MySQL to show prospective employers and customers that they are current on the latest features, tools and tricks.
LearnSpectrum will help you assess your MySQL requirements and craft a custom corporate training plan to meet your needs. Please call LearnSpectrum toll free at 888.682.9485 and speak to a representative.
*Information sourced from: www.mysql.com