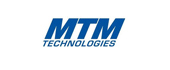 MTM Technologies is a leading national provider of innovative IT solutions and services to Global 2000 and mid-size companies. Partnered with the top-tier technology providers and with offices from coast to coast, their unique solution-based methodology, combined with their experience and expertise, has enabled thousands of industry-leading organizations to effectively address their business needs, optimize the returns on their IT investments, mitigate risk, and focus on growth and profitability.
Careers are built on the ability to do a good job today… and a better job tomorrow. In the IT world, that means staying on top of changing technologies, applying your knowledge and skills to real-world business problems, and delivering competitive advantages to your organization. MTM Technologies's training programs can help you develop a more capable technical team, enhance productivity, and maximize ROI by getting the most from your company's technology investment. MTM Technologies's instructors are experienced technical specialists who use the very technologies they teach. And they bring that experience into the classroom, sharing tips, tricks, and insights you just won't find everywhere else.
LearnSpectrum will help you assess your MTM Technologies requirements and craft a custom corporate training plan to meet your needs. Please call LearnSpectrum toll free at 888.682.9485 and speak to a representative.
*Information sourced from: www.mtm.com