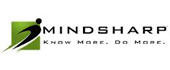 Mindsharp is a global SharePoint education company focusing on computer-based and instructor-led training. Mindsharp's core values establish a framework of integrity and authenticity that guides everything they do – how they conduct business, make decisions, and interact with their clients and one another.
Mindsharp exceeds customer expectations in a quality and value through delivering innovative education. UserVersity, computer based enterprise SharePoint training software, helps companies train their entire organization. With UserVersity, corporations can easily rollout consistent, measurable, and affordable training for all of their employees. Known for world renowned public and private instructor-led training; offered in-person and online, Mindsharp's portfolio of comprehensive training courses targets the needs of end users, business users, administrators, designers, developers, and architects.
LearnSpectrum will help you assess your Mindsharp requirements and craft a custom corporate training plan to meet your needs. Please call LearnSpectrum toll free at 888.682.9485 and speak to a representative.
*Information sourced from: www.mindsharp.com