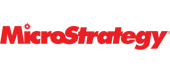 MicroStrategy is a leading worldwide provider of enterprise software platforms. With direct operations in 26 countries worldwide and over 3,200 employees, their mission is to provide the most flexible, powerful, scalable and user-friendly platforms for analytics, mobile, identity and loyalty—offered either on premises or in the cloud. With over 25% of our workforce and nearly $100M annually dedicated to R&D, they have over 80 patents issued. MicroStrategy is proud to serve millions of business users at nearly 4,000 companies across 20 industries around the world.
MicroStrategy's instructor-led training and certification programs address the full lifecycle of Business Intelligence development, implementation, and use. They help technical and end users alike understand how to raise their productivity, improve the depth of their analyses, and use technology creatively to address business challenges.
LearnSpectrum will help you assess your MicroStrategy requirements and craft a custom corporate training plan to meet your needs. Please call LearnSpectrum toll free at 888.682.9485 and speak to a representative.
*Information sourced from: www.microstrategy.com