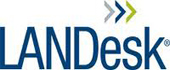 LANDesk Software is the leading provider of systems lifecycle management, endpoint security, and IT service management solutions for desktops, servers, and mobile devices across the enterprise. LANDesk enables IT to deliver business value by gaining control of end-user computing with a single console, light infrastructure, and ITIL solutions that deliver significant ROI for thousands of customers worldwide.
To help you maximize your technology investments and foster IT and business success, LANDesk Professional Services offers a wide spectrum of solutions-oriented services and product training that leverage the experience, talents and abilities of the people who develop the award-winning LANDesk solutions. LANDesk's training courses provide a comprehensive, easy-to-understand solution for the most up-to-date information and tutorials regarding each of products.
LearnSpectrum will help you assess your LANDesk requirements and craft a custom corporate training plan to meet your needs. Please call LearnSpectrum toll free at 888.682.9485 and speak to a representative.
*Information sourced from: www.landesk.com