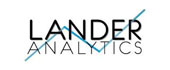 Lander Analytics is a New York based consulting firm specializing in statistical and data analytic work. Clients range from large corporations to nascent startups, from political campaigns to disaster relief efforts on multiple continents. Led by owner Jared Lander, projects are completed by a team of statisticians and data scientists most of whom hold Master's or Ph.D.'s.
Lander Analytics offers a number of professional training courses ranging from theoretical statistics and machine learning to applied programming skills.
LearnSpectrum will help you assess your Lander Analytics training requirements and craft a custom corporate training plan to meet your needs. Please call LearnSpectrum toll free at 888.682.9485 and speak to a representative.
*Information sourced from: www.landeranalytics.com