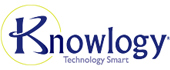 Knowlogy Corporation, a Microsoft Partner for Learning Solutions, Cisco Learning Partner Associate, an Adobe Certified Training Center, and CompTIA Member has been delivering premier learning solutions for corporate and government organizations since 1986. Their growth and experience have propelled them from a local training company to a global provider of learning solutions, consulting and procurement services, and e-Commerce hosting. They have remained at the top of their industry by using the most current technologies from flagship vendors.
Knowlogy is dedicated to providing quality education to meet the needs of each individual client. Their commitment to innovation has placed them on the leading edge of the computer technology industry locally, nationally, and globally. Their clients range from smaller, privately owned businesses to large, public institutions, Government and Department of Defense organizations and multi-national corporations. Their pledge to providing companies with value-added education is reflected in their business work ethic, driving their company forward.
LearnSpectrum will help you assess your Knowlogy requirements and craft a custom corporate training plan to meet your needs. Please call LearnSpectrum toll free at 888.682.9485 and speak to a representative.
*Information sourced from: www.knowlogy.com